Issue 8 (March 19, 2019)
Even though I sent February's newsletter with about 2 1/2 days left in the month, A LOT has happened in just the two weeks or so since then, so here are some musings about a huge loss in the music world, a huge win for the Philadelphia Phillies and their fans, and a whole lot of odds and ends…
#*$*!)$&!!()$%()!@&!()$#%
Bryce Harper is a Phillie!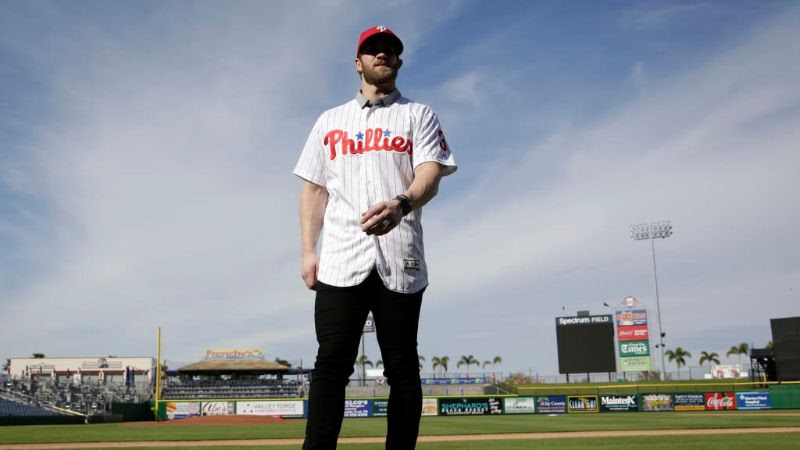 After nearly four months of courting and a torturous, frantic final few days of negotiations, superstar free agent outfielder Bryce Harper finally chose where he would next take his enormous talents. The Philadelphia Phillies, who had been seen as the frontrunners for Harper from the start, suddenly found the San Francisco Giants and Los Angeles Dodgers making a late push for his services. And when I sent last month's email out, it was starting to look like the Phillies were going to lose out.
But at 2:50 p.m. on Thursday, Feb. 28, 2019, MLB Network's Jon Heyman sent the tweet that launched millions of dollars in ticket sales and merchandise…
Breaking: Bryce to the Phillies

— Jon Heyman (@JonHeyman) February 28, 2019
It was not a joke. It was not someone hacking Heyman's Twitter account. It was real.
Bryce Harper was a Philadelphia Phillie. He had agreed to a free-agent record 13-year, $330 million contract.
And soon it became apparent that nearly all of the stuff we were hearing in the weeks prior to the signing – Harper wasn't enamored with Philly, his family talked him out of signing with the Phillies twice, Harper wanted to play in Los Angeles and stay close to his Las Vegas home, the Phillies' refusal to include a requested opt-out was a sticking point, etc. – was basically nonsense.
As we had heard all along, Harper wanted a long-term deal in the 10-year range. But as it turns out, Harper didn't want ANY opt-outs. And the deal includes a full no-trade clause. This means that Bryce Harper will be a Phillie for what will likely be the rest of his career.* So much for not wanting to come to Philly.
* Harper's contract expires after the 2032 season. He will turn 40 during the postseason, should the Phillies make it, that year. Since signing the contract, he has mentioned the possibility of playing into his 40s and as left-handed power bat and workout fanatic, Harper could easily remain an active player as a designated hitter if he chooses to do so. And with the DH likely coming to the National League within the next few years, there will be plenty of opportunities for him to do that.
Not only does Harper's signing make the Phillies' lineup more powerful and complete (it was sorely lacking a left-handed power bat), it is paying immediate dividends at the cash registers. In the 48 hours after news of the agreement broke February 28, the Phillies announced 220,000 tickets had been sold. If you go by the average ticket price of $40, that would translate to roughly $8.8 million in ticket sales over a two-day span.
Harper's No. 3 Phillies jersey went on sale immediately after his introductory press conference on the afternoon of Saturday, March 2. The following day, online sports apparel retailer Fanatics reported that Harper's jersey became the all-time best seller for any athlete in any sport in the first 24 hours of availability.
Phillies owner John Middleton was quoted early in the offseason that the team would be "maybe a little bit stupid about" spending money on free agents. Although it was somewhat unfair, that sentiment was misquoted as "stupid money." At the press conference introducing Harper, Middleton was asked about that quote. Looking at Harper donning his new No. 3 Phillies jersey, Middleton responded, "Does this look like stupid money to you?"
No, it does not. Sometimes you have to spend stupid money to make stupid money.
And, thankfully, the Phillies didn't wait for Los Angeles Angels superstar outfielder Mike Trout to become available as a free agent after the 2020 season because just today he agreed to a 12-year, $430 million contract that essentially serves as a 10-year extension – also without any opt-out clauses.
And if you think this was a lot to write about Bryce Harper signing with the Phillies, I actually covered a lot more in this blog post.
For now, I can't wait to bring my son Graham to Opening Day at Citizens Bank Park to watch the Phillies take on the Atlanta Braves on March 28, weather permitting (at this time, there are a couple of weather computer models actually hinting at a possible snow storm around that date).
---
Mark Hollis, 1955-2019
As I was proofing and making some final adjustments before scheduling the February newsletter for distribution, news was breaking on social media that I wouldn't hear until the following morning.
Mark Hollis, the reclusive former frontman and primary member of Talk Talk was dead at 64. His manager confirmed Hollis' passing from a brief illness from which he never recovered. Even in death, though, Hollis kept up an air of mystery as it still isn't clear when exactly he died. The first reports started coming out February 25, but no one really knows when he passed away.
Regardless, it is a huge loss for the music world and for me, personally. Mark Hollis was one of my musical heroes – right up there with Peter Gabriel, Todd Rundgren, Kate Bush and Midge Ure. Early 1980s Talk Talk were regarded as new wave synth-pop and often compared to Duran Duran, who Talk Talk toured with at one point. The band's second album, It's My Life, reached the Top 5 in several European countries and just missed the U.S. Top 40 (peaking at No. 42) thanks to the success of the title track (No. 31 on the U.S. singles chart and No. 1 on the U.S. Hot Dance Club Play chart). Of course, No Doubt's 2003 cover of "It's My Life" brought it renewed popularity.
While many see the follow-up album, The Colour of Spring, as Talk Talk's first steps into more jazz-infused art rock, there were many singular moments among the synths and drum machines on It's My Life that signaled the coming change. One such instance is the track "Renée," one of my favorite songs of all time. Below is a live performance of the song at Montreux in 1986. It's a bit more organic than the album version, but it shows how strong the song was even in its original "new wave" form.
I wrote more about the passing of Mark Hollis on my Tandem With The Random blog.
You can also listen to a hastily recorded cover of Talk Talk's "Life's What You Make It" that I did in GarageBand on my iPhone in 2012. I went with a quiet, restrained take on it because I recorded it while my son Graham slept near me a few weeks after he was born (as new parents, my wife and I were paranoid about something happening to him as he slept early on, so we took turns watching him at night). For this reason, the original vocals were recorded as literal whispers. I did eventually re-record them, but never got back around to improving them, though. Click below to play.
And here is the official 1986 video for "Life's What You Make It," which features longtime Peter Gabriel studio and live guitarist David Rhodes.
---
TMC+The New Generation Turns 30!
It dawned on me a few days ago that this year basically marks the 30th anniversary of my high school synth-rap band TMC+The New Generation with Christian Beach and Tariq Mohammed. I think we actually got together in 1988, but 1989 was when we started doing most of our short-lived writing, rehearsing and performing. By the end of the year, we were moving toward a heavier, more industrial sound (influenced by artists such as Nine Inch Nails, Ministry and Front 242) and started calling ourselves Interläken Probe (yeah…it was a weird time).
Around the same time as this realization, I was playing around with a musical idea on the piano in our house and wound up playing the simple two-chord progression of the synth-brass hits in the verse of the first song TMC ever worked on together, "Teddy Bear (Elvis Presley Sound FX)."
"Teddy Bear" started with that simple brass riff played over a generic hip-hop beat, and Tariq (TMC) just started rapping lyrics from Elvis Presley's "Teddy Bear" over it. It wasn't exactly a cover. It was an entirely different song that we accompanied with ganked lyrics from "Teddy Bear." For some reason, people liked it. Strangely enough, it also became known to us as the one song that always sounded good live. The rest of our set would usually be a train wreck filled with multiple flubs and technical glitches. But "Teddy Bear" always sounded decent.
Anyway, I wound up quickly recording a "not-quite-acoustic" version of it using just piano and studio percussion sounds in GarageBand. The mellow intro part incorporates a bit of the previously mentioned musical idea that led to all of this. I tried to isolate Tariq's original vocals from old cassette recordings I've digitized over the years so I could add them to the mix, but it was a complete fail. It was such a fail that my woeful attempt at "rapping" filler vocals here actually sounds better. If anything, it makes this all funnier. Click below to listen to the 30th anniversary recording of "Teddy Bear (Elvis Presley Sound FX)."
If you want to hear what the original version sounded like, here is a link to our first public performance of it at the old Green Parrot Rock Club in Neptune, NJ, in 1988 or '89 (not quite sure, but I'd lean toward 1989).
Also, here is another one of our songs that I updated a few years ago. "You're That Kind of Girl" started as a rap over a preset reggae pattern on Christian's Roland R-8 drum machine. In fact, we initially referred to it as "Reggae Rap." I still remember rehearsing it in the garage behind Tariq's family's house in Asbury Park and coming up with the vocal harmonies in the chorus. There were definite moments of brilliance among the weirdness of what we were trying to do.
Anyway, I couldn't make out many of the lyrics Tariq was rapping so I wrote and recorded new ones on this version from 2012. Click below to play.
And here is a circa 1989 performance of "You're That Kind of Girl."
---
Yet Another Race-Threatening Injury
So…as I hit mile 4 on a planned 5-mile run on March 6, I suddenly felt a deep, sharp pain in my right hip/outer thigh – something I have never experienced before. I finished the run, but the pain hung around a bit.
After a resting it a few days, I tried another run about a week later and I had to abort it after about a mile. Based on my symptoms and previous issues with my right leg's IT band, I believe I am suffering from trochanteric bursitis. However, I haven't completely ruled out a stress fracture. I'm icing the area a few times a day and doing some daily, homegrown physical therapy. I'm hoping to be back and running by the end of March. I have the New Jersey Marathon coming up April 28, and it stinks that my training for a 26.2-mile race has been curtailed by another injury for the second time in about seven months.
---
The Marvelous Ms. Danvers
Captain Marvel is fantastic. Not sure what a lot of the lukewarm reviews are all about (aside from, you know, misogyny). It's a fun movie with a kick-ass title character and an equally kick-ass cat named Goose that is actually an alien called a Flerken that houses pocket universes – like a TARDIS in cat form!
That said, I still hate the film's tagline of "Higher. Further. Faster." I know it comes from a run of the comic book, but it is grammatically incorrect. "Further" should be used to describe an additional amount as in "further to our discussion," or to help forward or promote as in "to further one's career." The tagline clearly applies to distance since the other two words apply to altitude and speed, so it should be "Higher. FARTHER. Faster."
Captain Marvel also has two wonderful tributes to the late Stan Lee, including a wonderful cameo appearance filmed before his death that basically knocks down the fourth wall for a few seconds of the film. Stan Lee has appeared in different guises throughout the Marvel Cinematic Universe, but this is the first time he shows up as real-world Stan Lee. And there is also a very brief exchange of smiles between him and Brie Larson (Captain Marvel/Carol Danvers) that was so damn heartwarming.
---
New Music Discoveries
Here are some recent music releases I would like to share.
EB The Younger – "Used to Be"
"Used to Be" is the lead track on To Each His Own, the debut solo album from Eric Pulido lead vocalist and guitarist for the band Midlake. Midlake, a favorite of mine since I first heard "Head Home" from their epic 2006 album The Trials of Van Occupanther, has been pretty much on hiatus since after touring to support their 2013 album Antiphon, which was the first Midlake album to feature Pulido on lead vocals following the departure of Tim Smith. Pulido and other members of Midlake have since recorded and toured with a side project called BNQT. But To Each His Own represents the first true solo offering from Pulido himself. It's definitely a bit more mainstream and accessible than a typical Midlake record, but it still sounds great to me.
Gary Clark Jr. – "Pearl Cadillac"
Singer-songwriter and guitar virtuoso Gary Clark Jr. has been a favorite of WXPN in Philadelphia for a long time now, and it's ridiculous that he has been mostly ignored by the mainstream for so many years. WXPN has been playing the Prince-flavored "Pearl Cadillac" for a few weeks now and Clark performed it on the Don Cheadle-hosted episode of "Saturday Night Live" on February 16. If you missed it, check it out above. I won't share it here, but the title track from Clark's new album This Land tackles racism head on and unabashedly – and it is awesome. Inspired by a neighbor who questioned Clark's ownership of his 50-acre horse ranch in Kyle, Texas, Clark does not hold back…at all.
Howard Jones – "Beating Mr. Neg"
Today, Keyboard magazine had the honor of posting the world premiere of the official lyric video for "Beating Mr. Neg," the first track from synth legend Howard Jones' upcoming album Transform. 
---
Support me in the 2019 Eagles Autism Challenge
A reminder that I am once again running the 5K component of this year's Eagles Autism Challenge, if I can find a few days of health and start running again. I'm not too far from reaching my fundraising goal so a few more small donations should put me over the top. My son Benjamin and I greatly appreciate your support.
---
2019 Scheduled Races
Here are my key races for 2019…so far. They include another marathon, which will be my fourth (2 New Jersey Marathons, 2 Philadelphia Marathons), and my return to the Olympic-distance Atlantic City Triathlon (1-mile swim, 22-mile bike ride, 10K run).
New Jersey Marathon
Sunday, April 28, 2019
Broad Street Run
Sunday, May 5, 2019
Eagles Autism Challenge 5K
Saturday, May 18, 2019
Atlantic City Triathlon (Olympic distance)
Saturday, August 10, 2019
Philadelphia Half Marathon
Saturday, November 23, 2019